Please use the buttons below to check out all we have to offer on our web site.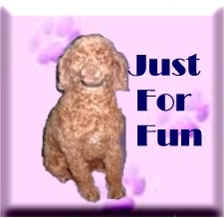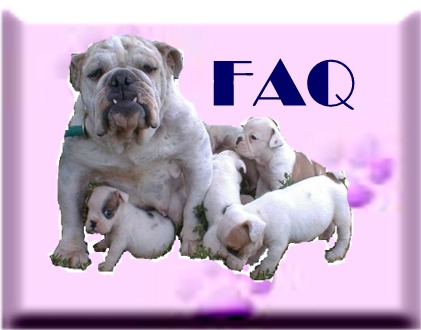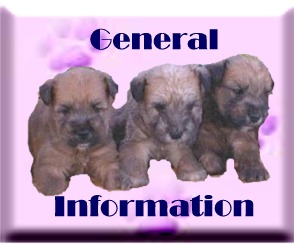 FREQUENTLY ASKED QUESTIONS

How long have you been raising dogs?
I took over the complete operation of the Kennel when my father passed away in 1990, but I had been involved in dogs for many years before that. My father was a dog breeder before I was ever born, so I guess I just came by it naturally! I began my own breeding career in the early 70's when I left home and got married. So the learning process has been going on for quite a few years for me now.
Do you show your dogs?
I recently started showing at APRI dog shows. These shows are a lot of fun, and the competitors are friends and fellow breeders. The cut throat attitude and politics that dominates AKC shows is simply
not to my liking, I have just never been able to deal with people that think they are better than everyone else. I not so jokingly tell people, "my dogs are fine, it's me that bites!"


Do you offer service after the sale?
Yes! As a long time breeder and dog lover I have a lot of useful
advice I can offer my customers. Help with the care of the new
pup, and later, training, house breaking, etc. I like to keep in
touch with the new owners of my pups.

Will the puppy have had it's shots?
Yes. Your puppy will come with a complete health record of all
the vaccinations and wormings it has had. We normally give at
least 2 shots, including one straight parvo shot, using Neopar,
the best parvo vaccine available, and a combination shot.
However, many vets recommend that a pup receive regular
booster shots until at least 4 months of age, so you will need to
continue the shots as recommended by your veterinarian,
according to what problems are prevalent in your area.
We also use a variety of different wormers to control this
problem in pups, but please remember, this too is something
that needs to be continued after you purchase your pup. Most
of the wormers available only work on adult worms, and leave
the larva to re-infest the dog, so frequent worming is very
important to the health of your pet.
Can I get my puppy micro chipped?
Yes. Just drop me a line and mention it, and I can take
care of it for you and send you all the paperwork to
register your chip. See my page on
Micro chipping
for more information about the benefits of this effective
way to identify your dog.

Are your puppies registered?
Yes, we use America's Pet Registry, or United All Breed
Registry for our pups. We no longer use AKC due to
terrible customer service, drastic price increases, and their
recent support of legislation that would force government
regulations on thousands of breeders at tremendous
cost to the American tax payer, and jeopardize the rights to
privacy for American citizens.
How are your puppies socialized?
This is one of the most important (and fun!) parts of my job,
when raising pups that will grow up to be beloved family
members. The pups are handled daily. As they develop, they
are exposed to different situations that teach them new
experiences, and help them grow and learn. I never wean
my pups young, pups learn a great deal from their mothers,
and interaction with littermates helps them be well
rounded, mentally stable individuals later in life. Some
people have the mistaken idea that pups should be raised in
a home, and not a kennel. This is simply not true. Kennels are
designed for safety and cleanliness of dogs, which is also very
important in raising healthy pups. And the sights and sounds
in a kennel are hardly any different than in a house. My pups
learn the sound of the microwave bell going off, the sounds of
vacuum sweeper, radio, opening and closing of the refrigerator
door, human conversations, lights going off and on, and all the
other sounds normally found in any home. The design of the
kennel, with an indoor area and an outside run, actually
promotes early housebreaking in pups, whereas raising pups
in a house encourages them to eliminate in a house, unlike a
kennel where they quickly learn to "go outside" to do their
business. And besides, if they were in my house, they would
never see me, I spend nearly all my time at the kennel, the
house is just a place to sleep and keep my stuff!


Do you ship?
Yes, weather permitting. Shipping is at buyers expense. Currently shipping runs $250, which includes everything, airfare, travel crate, Vet's health certificate, and delivery to the airport.
We now use an excellent professional service to transport our pups
to the Kansas City Airport where our pups can get much better
connections to make their trips to their new homes much less stressful.
These folks do a great job of taking care of the pups while in transport, since they too are breeders and know all about the care required for my pups.
Can we pick up our pup at the kennel?
Yes. Actually, I prefer it.
It's nice to get to meet my pups new
owners in person.
Is shipping safe/stressful for the pup?
Yes, to both. The airlines have a very good track record when
it comes to taking care of pups. They ship hundreds of pups
every week. Sure, accidents can happen, but they are rare.
And any shipping, whether by ground or air can cause stress to
a pup. Remember, they are leaving the only home they have
known for their entire life, and are going into a completely new
and strange place, with people they have never seen or smelled
before. It's all a part of growing up.
Deposits
Deposits are required to help assure that my pups find suitable homes in a timely manner, and to separate the serious prospective puppy owners from those who are not truly interested in obtaining a pup.
A $100 deposit is required to hold your puppy. No pup will be held without a deposit. I accept deposits only after pups are born, and up to 7 weeks of age. After 7 weeks of age, full price of pup would be required. In the event the pup is to be shipped, final payment must be received 5 days prior to shipping, to allow time to set up shipping arrangements. If you are picking up your puppy at the kennel, final payment can be made when you pick up the pup. Deposits are non refundable, except in the event that I am unable to provide you with a puppy.
Please understand, I cannot hold a puppy without a deposit, and I do not consider one sold until I have actually received the deposit. You wouldn't
believe the number of times I've heard, "the check is in the mail" when in fact it was never sent in the first place. So to assure you get the puppy you want, the best way to send a deposit is with Pay Pal. I do not charge any extra
fee's for using Pay Pal.
Can we call you?
Yes, if you must! :-) I prefer to handle most of my business
through email. It seems that the telephone only rings here on
3 occasions, when I'm eating dinner, in the bathroom or
sleeping. It is also sometimes difficult to catch me in the
house. When you choose to raise dogs, you have to work
according to their schedule, not yours. I long ago gave up
having any "set" hours. I may be up all night helping
deliver a new litter, or have gotten up at 3am to deliver a pup
to the airport, so if I'm still in bed at the crack of noon, it
sure isn't because I'm lazy!

If you have more questions about purchasing a pup and the process 
for bringing him home, please visit my General Information page.